I remember a time – not so many years ago – when an accident was just that. An accident. Nobody was at fault. There was no malice. There was no question of someone acting irresponsibly or recklessly. It was quite simply an accident.
And there were no 'lessons to be learned'. No retraining. No 'root cause analysis'. It was accepted that accidents happen.
That is not to say that everything that goes wrong can be dismissed as an accident – sometimes there is fault, negligence or malice. And there might be lessons to be learned and things that can be done to prevent it happening again in the future.
Just over 20 years ago, I was travelling on a high-speed train into Paddington Station when it collided with another train coming in the opposite direction in what has become known as the 'Paddington Train Crash'.
Although it was the driver of the Thames Link train coming out of Paddington Station that went through a red light, he most certainly was not to blame for this incident. He was a victim of the crash just the same as everyone else.
The fault was that multiple reports from other drivers regarding the poor visibility of the signal had been ignored.
And the lesson learned from this incident was that measures were needed to prevent future SPADs – signals passed at danger.
But sometimes a catastrophic incident is simply an accident.
Many of you will remember Rev Paul Niemiec who served this town for a number of years and started the Church of the Good Shepherd on Sandhills. He experienced a freak house fire that almost destroyed his house on Billington Park.
The cause of the fire was sunlight reflecting off a glass ornament, focussing the heat onto paper which caught alight.
This was an accident. There was no fault. No negligence. And the only lesson to be learned from this freak accident is that accidents do happen – after all, who could have possibly foreseen this?
Which brings me to the thorny issue of the trees on Leighton Buzzard High Street.
For anyone who may not be aware of the unfolding drama, two trees were allegedly damaged by contractors – installing lighting on behalf of the Town Council – which resulted in them being deemed dangerous by Central Bedfordshire Council, and as a result they were removed.
This incident has resulted in two main concerns – firstly, how they came to be removed in the first place, and secondly, the time it has taken to replace them.
Regarding the 'how' this happened:
As part of the Town Council's efforts to improve the High Street, feature lighting is being installed around the town centre. During the works, it is alleged the roots of two trees were damaged, and as a result CBC considered it necessary for the trees to be immediately removed as they posed a significant risk to public safety.
The removal of the trees has been described in the local press by one local Councillor as a 'terrible disaster' and a 'bad mistake'. And they have referred to the 'outcry' from local residents.
One or two contributors to local social media sites have accused the contractors of not following the necessary guidance for working close to tree roots, and that CBC's actions amount to a 'wildlife crime'.
Whilst I applaud anyone who is passionate about protecting our natural environment, it needs to be recognised this was an accident. There was no intention to damage the trees.
Possibly there are lessons to be learned for the future, but we do need a sense of proportion as to what amounts to a 'terrible disaster' and a 'bad mistake'.
Losing your house in a fire is a terrible disaster.
Driving a train through a red signal is a bad mistake.
Losing two trees on the High Street … I'll let you decide where this sits on the disaster scale.
Regarding the replacement of the trees, I have been advised that late spring is not the best time to plant trees. That said, the Council are committed to replacing the trees when the time is right.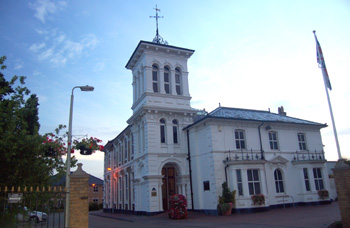 And for anyone who doubts the high standards LLTC aspire to, they have been re-accredited as a Quality Gold Council as part of the national Local Council Award Scheme. Out of 10,000 eligible councils, LLTC is one of only 50 given this highest award, and the only council in Bedfordshire.
First awarded this accreditation in 2017, it recognises excellence against 52 criteria including sound financial management, good governance, best practice, engagement with partner organisations and delivery of innovative projects for the benefit of the local community.
Well done to the team at the White House and thank you for your efforts on behalf of the town.
Addendum:
There seems to be some confusion among a very small number of people reading this post …
If you read my post, I was a victim of the Paddington Train Crash myself. I was a passenger on the GWR train, boarding at Didcot Parkway. I had to walk through dead and injured to reach safety. I was unable to work for almost two years, and still suffer with PTSD to this day.
My point is that to use terms like 'terrible tragedy' to describe two trees being cut down is inappropriate – not to mention disproportionate and offensive to those who have suffered real tragedy in our lives.
I did not compare the trees being cut down to the Paddington Train Crash – completely the opposite – I made it clear the two are NOT comparable. The language used to describe them should be different.
And as a victim of the Paddington Train Crash, I am entitled to use it to make my point. It is how I keep a little perspective in life as to what is important and what is not.
So – to keep this simple – do not use phrases like 'terrible tragedy' and a 'bad mistake' to describe two trees being cut down.
It was an accident. Get some perspective. And react proportionately.
Cllr Amanda Dodwell